The Graz University of Technology (TU Graz) is currently assessing roadside exhaust measurement techniques in the framework of the LENS project. These new techniques, which allow the identification of high emitting vehicles, are used alongside commercial Remote Emission Sensing (RES) systems. This is essential, as over 80 % of traffic emissions are caused by a minority of modified and malfunctioning vehicles. Such roadside measurement tests will be conducted by custom-made measuring devices, which are placed on board of a rented van.
These so-called LENS in-field surveys will be carried out by measurement devices for particulate mass (PM), particle number (PN) and possibly additional gas analysers, as well as an automated numberplate recognition system and speed and acceleration sensors. The system is intended to be battery operated for at least 8 h, alternatively it can be powered by the engine of the van or an external power supply. All components of the system, except for the gas analysers, are custom made by TU Graz.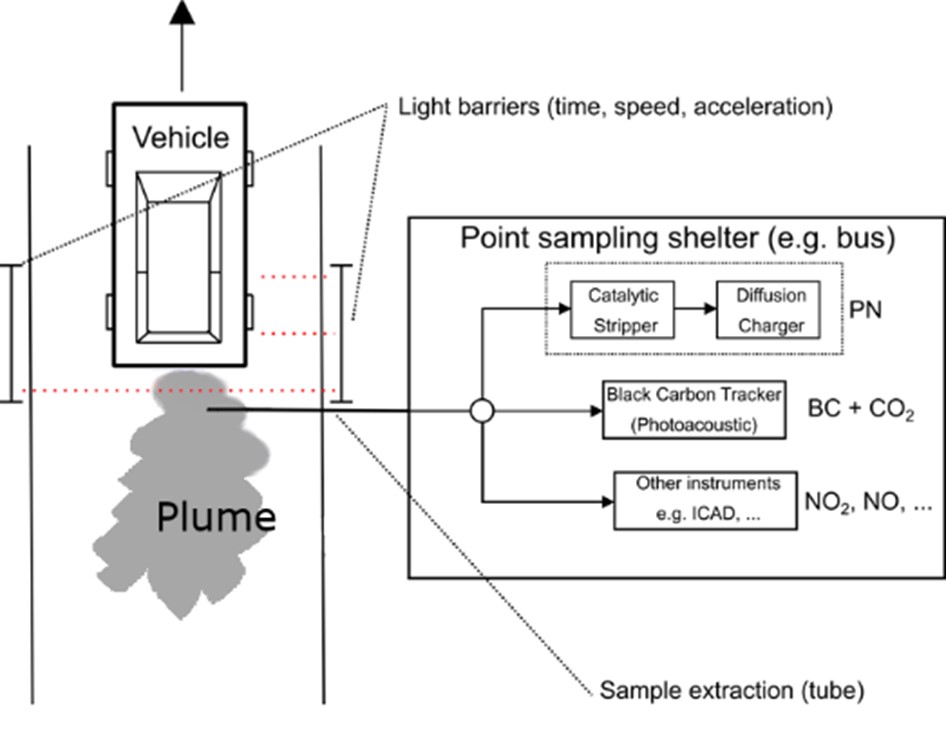 For the measurements, the van is parked curb-side and the light barrier is installed on the opposite side of the road to measure the acceleration of bypassing L-vehicles. The particle measuring devices for point sampling are installed on both sides of the road, as well as directly in the middle of all lanes. The camera system for the number plate recognition is mounted on the van. All sub-systems are aligned such, that the exhaust sampling position is in line with the number plate recognition and the speed and acceleration detection. The data is then analysed by a central system control for all devices. Additionally, an experimental gas imaging technique might be used, to analyse the spread of the exhaust towards the point sampling positions.
Following the development phase of the testing tool, TU Graz aims to participate at the three real world surveys between spring and fall 2024 in three European cities, in order to determine the amount of high-emitting and tampered L-vehicles in traffic. This next phase is eagerly awaited as the challenge of low exhaust mass flow of L-vehicles will occur. Nevertheless, the entire team is certain to provide significant results over the course of the upcoming months, while contributing to a less polluted urban environment in the second largest city of Austria.